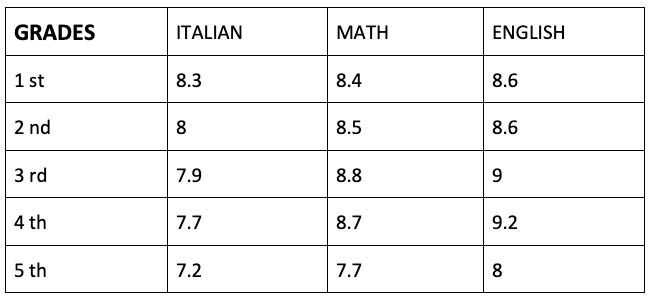 S. Y. 2022-23 ACCADEMIC RESULTS
Each subject in the table is based on a scale of 5 to 10. The reported grades are calculated in percentage of the number of students and on the overall final grades. The TMIS is proud of this year's achievements. The overall range score is between the INTERMEDIATE and the ADVANCED scale level.
8th GRADERS FINAL DEGREE EXAMS 2022-23
Our students obtained an average score of 8.5 on a scale value from 5 to 10. We are very proud also to estimate that 30% of candidates had also received 10/praise.



CAMBRIDGE EXAMS A.S. 2022-23
100% of the students participating to this years preparation course had passed the final exam.
Many of these had even exceed the further level, reaching great results.